Meetings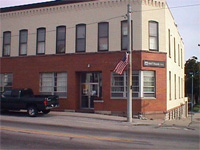 The club is open for members and guests on Tuesdays from 7 - 9 PM with the monthly business meeting being held on the last Tuesday of the month. Visitors are always welcome to our facilities located within the M & T bank building at 50 Main St. (Rt. 63) in Oakfield, NY.

Map It!
Our Club Facility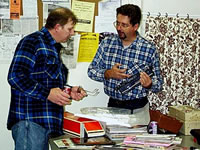 The GSME facility in Oakfield, NY comprises several layout rooms, kitchen, work room, and storage areas. The club also maintains an ever-expanding library of railroad-related video tapes and DVD's. The collection, which currently includes over 400 pieces, includes "how-to" instructional tapes along with a wide selection featuring local prototype railroads.
Social Events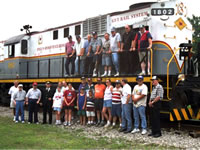 GSME members enjoy many social events. A holiday party, summer picnic, and frequent train-watching excursions add variety to membership activities. Special events such as wine tasting tours, baseball games, and visits to local railroad attractions are also very popular with our members.
Great Batavia Train Show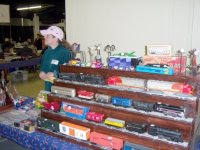 The semi-annual Great Batavia Train Shows are a major focus of attention within the GSME. In addition to being our primary source of operating revenue, the shows offer the opportunity for club members to meet with other hobby enthusiasts and vendors. It's a lot of work, but with nearly 100% participation from the membership, the events have grown to be the most popular train shows in western New York.
Open House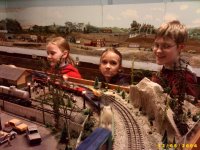 Another popular event on the GSME calendar is the annual open house held the first Saturday in December. Coinciding with the Christmas season, this event offers the opportunity for the members and guests to visit our facility and share in our enjoyment of model railroading.
History
The G.S.M.E was founded in 1969 by a small group of model railroad enthusiasts in the Batavia, NY area. Early meetings were held at the homes of members. As the club grew, a location was needed for meetings and construction of club layouts. This requirement was met in the early 1980's by renting the space in a bank in the Village of Oakfield, NY. This location still serves as home to the G.S.M.E., which now has three operating model railroads in O scale (3-rail), HO scale, and N scale.
The club was incorporated in the State of New York in 1979 as a not-for-profit entity. Activities of the society range from layout construction to social events such as field trips, a summer picnic, an open house, and a holiday party. Members have use of an extensive book, magazine and video library including over 350 videos and DVD's.
Each year two train shows are held to financially support our various projects. These shows, now known as The Great Batavia Train Shows, have grown to become the largest model train shows in the Western NY region. The shows have run continuously for over 25 years, and in 2004 we celebrated our 50th train show.
Today, the society's membership is comprised of individuals from six counties who share interests including photography, railroad history, and railfanning in addition to railroad modeling. Membership is currently open, and those interested are invited to visit and learn more about the G.S.M.E.
Founding Principles of the G.S.M.E.
To promote and encourage interest in the hobby of model railroading wherever and whenever possible.
To promote greater fellowship among model railroad engineers.
To promote, encourage, and provide social activities among its members and members of other similar organizations.
To acquire by gift, devise, purchase or lease, real or personal property to be used to carry out the purposes of the corporation.
To do any other act or thing incidental to or connected with the foregoing objects or in advancement thereof, but not for profit.