Charlie Freeman joins the GSME club.
GSME welcomed it's newest member last night, "Charlie Freeman". Charlie is into both O and HO scales. His father Tim and grandfather Pete also also long time members of the GSME club.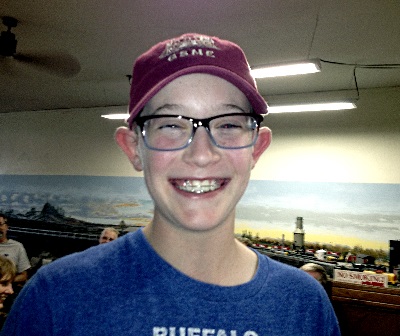 Wednesday, July 1, 2015 10:30:00 AM
Local owner's West Coast railcar, the Silver Solarium, passes through Batavia
Roy Wullich, Batavia native, traveled through the city from the West Coast on his deluxe rail passenger car, the "Silver Solarium."
The railcar passed through the area around 10:30 a.m. on Wednesday. It was attached to an Amtrak train, the Lakeshore Limited, and departed from Buffalo at 9:50 a.m. The charter originally started its journey in Los Angeles and has gone to Oakland and Chicago. To read the full article click here
Friday, June 5, 2015 12:02:00 PM
Buffalo MetroRail extension to Airport ?
Cheektowaga officials have now sent a unanimous resolution to the NFTA for supporting the Airport extension of MetroRail. Extension would possibly stop at Buffalo Central Terminal on way out to airport. This would go miles in trying to get activity back to the Terminal.
Watch news article:here
Friday, June 5, 2015 12:02:00 PM
Amtrak getting new station in Niagara Falls